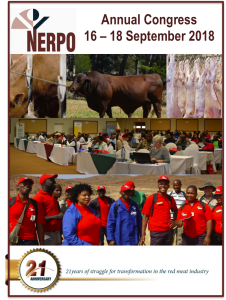 CELEBRATING 21 YEARS OF STRUGGLE FOR TRANSFORMATION IN THE RED MEAT INDUSTRY
REGISTER FOR THE CONGRESS TODAY
The National Emergent Red Meat Producers' Organisation (NERPO) will be celebrating its 21st Birthday on the 16th – 18th of September 2018, with the THEME of the congress: "21 Years of Struggle for Transformation in the Red Meat Industry"
NERPO 21st Congress Invitation
As the oldest emerging farmers' organisation in the country, NERPO has played a significant role in the lobbying for the rights and development of emerging red meat producers but also in bringing together different links in the red meat value chain in order to create more inclusive value for more members of the value chain.
We reiterate the words of the State President, Dr Cyril Ramaphosa in his inaugural State of the Nation Address on 16 February 2018: "Agriculture presents one of the greatest opportunities to significantly grow our economy and create jobs." The importance of rural development, job creation, youth unemployment and food security are all critical issues that can be partly unlocked by agricultural growth and support of emerging farmers.
This year's programme will be an overview of the work of NERPO since its inception and we invite all stakeholders to register for this celebration.
CLICK HERE TO REGISTER ON-LINE or Download use the NERPO 21st Congress Invitation as manual registration.
For any clarification or confirmation of registration contact us:
Tel: 012 492 1383 • Email: admin@nerpo.org.za

Join our sponsors and show your support of emerging farmer development.
NERPO 21st Congress_RATE CARD  or Contact us for more information.